Yep. You read that right. My family knows how to have a good time over the holidays. Who knew that Houston, Texas, would produce a National Museum of Funeral History? Who would have guessed it would be interesting? Some gambles pay off.
Prepping the body for burial is a small part of the museum, since the focus is mostly on industry. It does include a walkthrough of how the Pope is interred. If you want to learn more about body prep, I recommend the Houston Museum of Natural Science, which has a lovely mummy exhibit.
There is a large display about making coffins through the years. There are several fancy coffins, including one for three people that was never used. A couple lost their child, and ordered the coffin while they planned their murder-suicide pact. They asked for a refund a few years later. I'd love to know the story there.
Being a national museum, they had famous American funerary information. Information on the Lincoln and Kennedy arrangements loomed large, but they also had more recent presidents, like Reagan. There was a whole section on famous actors, space explorers, and well known celebrities. Star Trek's Scotty, who famously sent remains in orbit, had a nice display.
Moving a body to it's final resting place has been a big production for a long time. You want to go out in style. You want family members to grieve comfortably. Some people want to be noticed as they travel through town, even when they're dead. Some people, like President Lincoln, are famous enough that the transportation of their body becomes legendary.
A large part of the museum is about transportation, mainly cars. This was my favorite part.
Not everything comes in chrome
Carved from wood, this one is a masterpiece on wheels.

The gift store is fun, and would be a great place to visit before Halloween. Right at the entrance, it doesn't require a museum entry fee. I found this jewel encrusted skull and we tried our best Hamlet moment, but I don't think we quite caught the essence of the bard. (image by Herbert)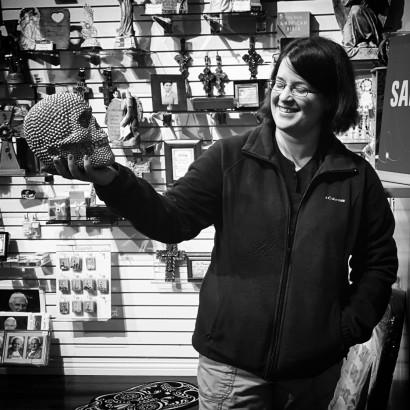 Check out the National Museum of Funeral History: